With "Ahimsa," U2 Finds Its Ancient-Modern Home
Timothy D. Neufeld
November 25, 2019

"Ahimsa," the new single from U2, in collaboration with India's A.R. Rahman, is a powerhouse of understatement. Deceptively simple, it goes much deeper than its catchy synthpop melodies and gentle, straightforward chordal progressions. This lullaby for India deserves a closer look.
In the chorus, Bono sings, "This is an invitation / To a high location / For someone who wants to belong." (Listen to the whole song here.)
With that, the listener is summoned into a whirling kaleidoscope of philosophy, faith, and ancient sacred writings. There is a meditation in the midst of a culture clash, and it is rich, with influences going back to U2's beginning, and beyond.
Through Martin Luther King Jr.
It was Jim Henke who gave a copy of Stephen B. Oates' Let the Trumpet Sound: The Life of Martin Luther King, Jr. to Bono, which in turn became the impetus for "Pride (In the Name of Love)." Recalling that period, Bono told Michka Assayas in 2005, "We became students of nonviolence, of Martin Luther King's thinking." Reflecting on similarities between America's civil rights movement and the Troubles in Ireland, in another 2005 interview, with Jann Wenner for Rolling Stone, Bono recounted, "We had discovered nonviolence and Martin Luther King, not just in relation to his use of the Scriptures and his church background, but also as a solution to the Irish problems."
There is no mistaking the impact of King on U2's music and mission. The Vertigo Tour in 2005 referenced King's famous "I Have A Dream" speech as the band segued from "Pride" into "Where the Streets Have No Name." With a choir of "oh-oh-oh-oh-oh" encircling him, Bono reminded the audience, "Not just an American dream. Or an Asian dream. Or a European dream. Also, an African dream."
During the recent Experience + Innocence Tour, U2 again featured "Pride." As Bono yelled through the megaphone, "This is not America," jarring pictures of white supremacist rallies suddenly morphed into footage of King marching with his supporters, carrying signs reading "We Shall Overcome," with Bono screaming, "THIS IS AMERICA!"
And on the 30-year anniversary of the Joshua Tree Tour (both the 2017 and 2019 versions), the band launched into a live performance of the iconic album with the text of King's Dream speech superimposed over the final notes of "Pride."
From Mahatma Gandhi
As much as King has influenced the heart and soul of U2, the civil rights activist himself was greatly inspired by Mahatma Gandhi, the Indian reformer who led a nonviolent revolution against the British Empire in the first half of the twentieth century.
In his essay "My Pilgrimage to Nonviolence," King recalled:
Gandhi was probably the first person in history to lift the love ethic of Jesus above mere interaction between individuals to a powerful and effective social force on a large scale. Love, for Gandhi, was a potent instrument for social and collective transformation. It was in this Gandhian emphasis on love and nonviolence that I discovered the method for social reform that I had been seeking for so many months.
King continued:
My study of Gandhi convinced me that true pacifism is not nonresistance to evil, but nonviolent resistance to evil. Between the two positions, there is a world of difference. Gandhi resisted evil with as much vigor and power as the violent resister, but he resisted with love instead of hate.
In Gandhi's defiance of British rule, he drew upon the concept of ahimsa. This ancient ideal is a foundational virtue in Buddhism, Hinduism, and Jainism. Its literal meaning is "non-injury." (As himsa means "injury" or "harm," a-himsa means the opposite). In English, the sense of the virtue comes across best as "non-harm" or "nonviolence." But the concept goes deeper: ahimsa also refers to an active presence that honors all life and seeks to "cause no injury" to anyone or anything. More than just the absence of violence, ahimsa is a call to practice harmonious living with all things, quite like the Jewish notion of shalom.
In his autobiography The Story of My Experiments with Truth, Gandhi explained:
Ahimsa is a comprehensive principle. … A votary of ahimsa therefore remains true to his faith if the spring of all his actions is compassion, if he shuns to the best of his ability the destruction of the tiniest creature, tries to save it, and thus incessantly strives to be free from the deadly coil of himsa. He will be constantly growing in self-restraint and compassion ….
Gandhi believed that an act of violence would rebound back on the perpetrator of that violence. Even the act of harvesting or killing one's food damages the whole of creation and the soul of the individual, though its impact is small. Hence, Gandhi's great respect for all living things.
Ultimately, the ahimsa ethic translates into an idea that seems contradictory for many Westerners: Gandhi could both love and resist the British enemy. But he explained in his autobiography how he resolved this paradox:
This ahimsa is the basis of the search for truth. I am realizing every day that the search is vain unless it is founded on ahimsa as the basis. It is quite proper to resist and attack a system, but to resist and attack its author is tantamount to resisting and attacking oneself. For we are all tarred with the same brush, and are children of one and the same Creator, and as such the divine powers within us are infinite. To slight a single human being is to slight those divine powers, and thus to harm not only that being but with him the whole world.
To India's Ancient Tirukkural
In U2's only new song of 2019, the band offers a tune drawing on the best of what King and Gandhi advocated. But, again, we must go beyond its surface to fully hear it.
In a video on YouTube produced by Aneez Basheer, the Indian filmmaker's daughter, Aasiya, explains the rich context and profound significance ahimsa has for the people of India. The song begins with the daughters of A.R. Rahman singing two distinct phrases from the Tirukkuṛaḷ, a highly revered sacred text in Tamil culture dating back two millennia. (The text's shorter name is the Kural.)
Basheer gives an important clue for understanding the Kural, noting its couplets have four words in the first lines and three in the second. Translation into English presents the impossible task, then, of capturing both the meaning and structure of the original lines in Tamil.
செய்யாமல் செற்றார்க்கும் இன்னாத செய்தபின்
உய்யா விழுமந் தரும்

பிறர்க்கின்னா முற்பகல் செய்யின் தமக்குஇன்னா
பிற்பகல் தாமே வரும்
Discussing the children's chorus that opens "Ahimsa," Basheer cites a chapter titled "Not Doing Evil," where we find the first lyric of U2's song in Kural 313,
Seyyaamal setraarkkum innaadha seydhapin
Uyyaa vizhumanh tharum.
The Himalayan Academy, in Weaver's Wisdom: Ancient Precepts for a Perfect Life, translates this couplet as:
Harming others, even enemies who harmed you unprovoked,
Surely brings incessant sorrow.
The second lyric the children sing in "Ahimsa" is:
Pirarkkinnaa murpakal seyyin thamakkuinnaa
Pirpakal thaamae varum
Which translates in English as:
If a man visits sorrow on another in the morning,
Sorrow will visit him unbidden in the afternoon.
In a personal interview with Basheer, the video producer told me how difficult it is to translate ancient Tamil into modern English, which explains the many variant translations of the text floating around the internet. "I saw so many articles and people talking about what kind of lyrics U2 was using; we put that video together to explain the chorus," Basheer said.
"Tamils are very proud of their language and its ancient literature. This chorus is definitely a big treat for Tamils (who live in Tamilnadu, a state in India)," Basheer added.
I asked him what he thought of U2's choice to sing about ahimsa, to which he replied: "Ahimsa is like a trademark for India. India got its freedom from the British through nonviolence, which is ahimsa."
And Back to U2
Much more could be said about the song "Ahimsa." The rabbit hole is deep.
As a matter of intertextuality, many of U2's other songs contain themes similar to "Ahimsa." Notions of the sky being opened in some form or another appear in "Window in the Sky," "Bullet the Blue Sky," "In God's Country," and "Electrical Storm."
Bono has often sung of the beginning of the world or of being born, as in "Magnificent," "The Crystal Ballroom," "Yahweh," "All Because of You," and "Lights of Home."
The idea of "no weeping" goes back to "Sunday Bloody Sunday," "A Sort of Homecoming," and "Running to Stand Still," as well as the newer "American Soul."
And certainly, "Ahimsa" has a general vibe similar to a popular track from Songs of Experience, "Love is Bigger than Anything in its Way."
There are also biblical references which resonate strongly with ahimsa, as found in Gandhi, King, and the Kural. Jesus' Beatitudes and the Sermon on the Mount in Matthew 5 contain some rich likenesses: "Blessed are the poor," "Blessed are the meek," "Blessed are the merciful," "Blessed are the peacemakers," "Do not resist an evil person," and, "Love your enemies and pray for those who persecute you."
The general optimism of "Ahimsa," as it looks forward to a time without evil, feels very near to the closing chapters of the Bible. Revelation 21 and 22 describe a heavenly dwelling "where there is no weeping" and "where there is no sleeping." It is an idyllic place of harmony among all people groups.
As U2 prepares to play its first concert ever in India on December 15, 2019, "Ahimsa" showcases the band's longstanding cultural awareness once again. In a sense, U2 is coming home to a place they have never been.
In a recent press release, Bono said,
We come as students to the source of inspiration. That is ahimsa… non-violence. India gave this to us… the greatest gift to the world. It is more powerful than nuclear energy, the armies, the navies, the British Empire. It is power itself. And it's never been more important.
Equally anticipating their journey, Edge agreed:
India has been on our bucket list for a very long time; the principles of ahimsa or non-violence have served as an important pillar of what our band stands for since we first came together to play music. We can't wait to experience the culture of India firsthand, a place that brings together the modern and the ancient all at once.
Ahimsa is the stuff of Adam, Larry, Bono, and Edge's DNA. From the Tirukkuṛaḷ to the Bible to Gandhi to King, the theme of active peacemaking resounds in U2's music and mission. The message of the new song is a sacred one, extending far beyond the transmission of radio waves and music videos. It is an ethic of love by which any one of us can choose to live.
---
If you want to know more about U2's song "Ahimsa," consult these great resources:
Also, check out A.R. Rahmen's music, which is thematically relevant and visually stunning.
---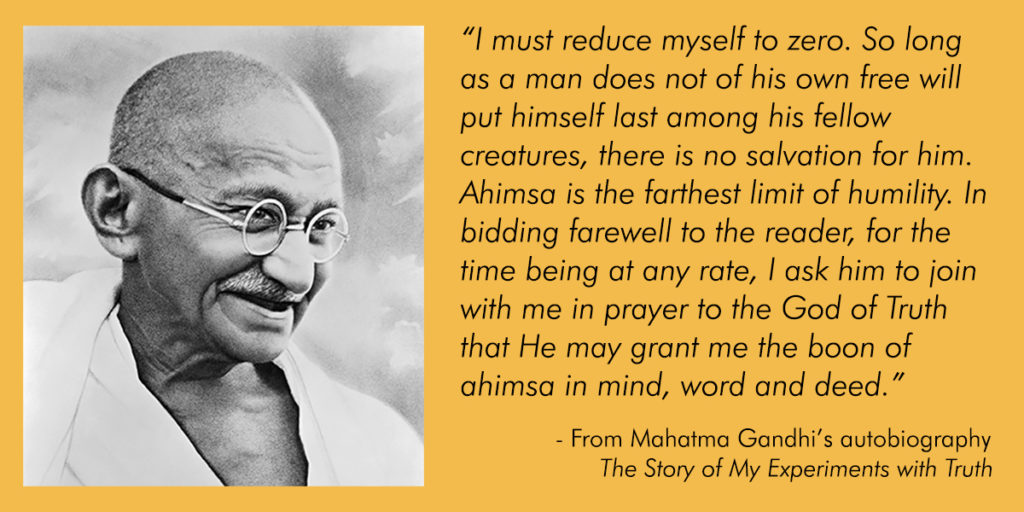 ---
© Timothy D. Neufeld, 2019
Dr. Timothy D. Neufeld teaches at Fresno Pacific University in the biblical and religious studies department in Fresno, CA. He is the author of U2: Rock 'n' Roll to Change the World as well as numerous academic and popular essays on the intersection of U2 and pop culture. He hosts an innovative online chat community called The Crystal Ballroom and invites you to follow him on Twitter and Periscope at @timneufeld. Tim is currently completing a second masters degree, this time in marriage and family therapy.