Update: We're still looking for a reviewer for Religion Around Bono. See below for more information. (Ian Greig reviewed The Rosary and The Microphone and it is posted here.)
If you would like to review either of the two books below, we would like to post your review as part of the U2 Studies Network. We're looking for a short essay of about 1200 words, written for a general reading audience, which gives a fair, well-supported and professionally-toned review. To get a review copy of either book, please follow the link posted with the book information, and inform the publisher you intend to post your review on this site, U2conference.com.

Please contact Scott Calhoun to let him know you are writing your review and to ask about deadline and submission details. Thank you!
---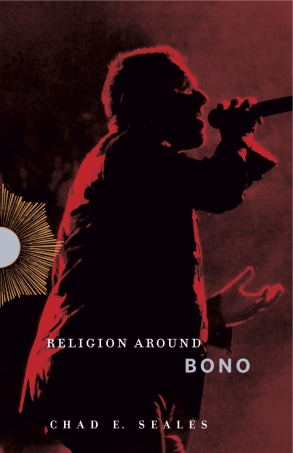 Religion Around Bono
Evangelical Enchantment and Neoliberal Capitalism
Chad E. Seales
Penn State University Press, 2019
Book information here and Review copy request here
For many, U2's Bono is an icon of both evangelical spirituality and secular moral activism. In this book, Chad E. Seales examines the religious and spiritual culture that has built up around the rock star over the course of his career and considers how Bono engages with that religion in his music and in his activism.

Looking at Bono and his work within a wider critique of white American evangelicalism, Seales traces Bono's career, from his background in religious groups in the 1970s to his rise to stardom in the 1980s and his relationship with political and economic figures, such as Jeffrey Sachs, Bill Clinton, and Jesse Helms. In doing so, Seales shows us a different Bono, one who uses the spiritual meaning of church tradition to advocate for the promise that free markets and for-profits will bring justice and freedom to the world's poor. Engaging with scholarship in popular culture, music, religious studies, race, and economic development, Seales makes the compelling case that neoliberal capitalism is a religion and that Bono is its best-known celebrity revivalist.

Engagingly written and bitingly critical, Religion Around Bono promises to transform our understanding of the rock star's career and advocacy. Those interested in the intersection of rock music, religion, and activism will find Seales's study provocative and enlightening.
---
The Rosary and the Microphone
Religious Impulse in U2's Mediated Brand
Nicholas P. Greco
Equinox, 2019
Book information here and Review copy request here
The Rosary and the Microphone explores U2 as a politically engaged band that manifests a particular brand of Christianity through the band's mediation in a global context and for a global audience.

Through the primarily semiotic study of U2's various mediations, this book maps the band's strategies for negotiating its place in the world as a global band — and a mediated brand — and as a proponent of a kind of cosmopolitanism, or global care. U2's brand is heavily informed by Bono's own personal religious formation. This religious viewpoint is expressed in a global concern — a Christian cosmopolitanism — that looks outward and urges others to do the same.

The Rosary and the Microphone explores U2 in live performance, through music videos and in unique media offerings, such as the feature-length music video Linear.
---