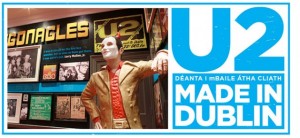 I was honored to be asked to help curate the permanent exhibit U2: Made in Dublin for The Little Museum of Dublin. The exhibit opened in 2013 and continues to grow.
Charting the story of the band from 1976 all the way up to the present day, this fan-curated exhibition features musical rarities, signed albums and some great photography, alongside items such as a Trabant car, a Gibson Explorer, a life-size sculpture of MacPhisto and even a pack of U2 condoms.

The exhibition was curated by fans of the band alongside some of Ireland's best photographers and artists, as a tribute to the achievements of U2 and a celebration of their roots in the local music scene of the 1970s. A soundtrack narrated by Tom Dunne tells the story of the band with rare live recordings from the Dandelion Market all the way through to Croke Park. It's already proving hugely popular with fans of Ireland's most famous musical export.