From the 2013 U2 Conference, held in collaboration with the Rock and Roll Hall of Fame and Museum, comes this new collection of scholarly essays selected from the two days of presentations.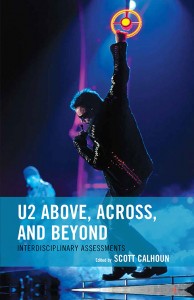 Edited by Scott Calhoun, U2 Above, Across, And Beyond: Interdisciplinary Assessments is the first book in a new series on rock and pop music from Lexington Books. The series, called For The Record, is co-edited by Scott Calhoun and Christopher Endrinal.
Scott Calhoun directs the U2 Conference, is a staff writer for @U2, is a curator for the U2: Made in Dublin exhibit, and is professor of literature and writing at Cedarville University.
The contributors to U2 Above, Across And Beyond are Matt Hamilton, Arlan Elizabeth Hess, Fred Johnson, Ed Montano, Steve Taylor, Theodore Louis Trost, Chris Wales, and Brian F. Wright
About the book:
U2's success and significance are due, in large part, to finding inventive, creative solutions for overcoming obstacles and moving past conventional boundaries. As it has embraced change and transformation over and over again, its fans and critics have come to value and expect this element of U2. These new essays from the disciplines of organizational communication, music theory, literary studies, religion, and cultural studies offer perspectives on several ways U2's dynamic of change has been a constant theme throughout its career. The eight essays here come from the U2 Conference 2013, which explores the music, work, and influence of U2, furthering the scholarship on U2.
 "What to make of U2? Is it possible to seek total global pop domination decades on end, to really believe your work is worthy of it, and to remain somehow soulful, sane, and socially righteous? Definitely maybe. U2 Above, Across, and Beyond: Interdisciplinary Assessments is inspiringly unafraid to bring the question down to the level of U2's often exemplary attentiveness to what William Blake calls the 'minute particulars.' There is so much to consider and mull over, especially if one is willing to imagine that U2's dilemmas are a lot like our own—only more so. If the goal, in all of our meaning-making, is soul, then we get to 'minutely particularize' our love one decision, one song, and one person at a time through this attentive study." — David Dark, Belmont University

"As a band of almost forty years, as activists for world change, and as global pop stars accused of forcing their music on the world for free, U2 avoids easy approaches in the twenty-first century. This excellent collection grapples with the various transformations of U2 from eight unique perspectives; from the recording studio and the sound of Adam Clayton's bass, to its Irishness, to the religious and communal aspects of their music. This is necessary reading for scholars and fans of U2 alike." — Jason Hanley, Director of Education, The Rock and Roll Hall of Fame and Museum
Available from Amazon and Rowman & Littlefield.
Contents:
Introduction: U2 TRANS-
Scott Calhoun
1. Collaborative Transactions: Making Sense (Again) for U2's Achtung Baby
Christopher Wales
2. Transvaluing Adam Clayton: Why the Bass Matters in U2's Music
Brian F. Wright
3. Translating Genres: U2's Embrace of Electronic Dance Music in the 1990s
Ed Montano
4. A Transcendent Desire: In Defense of U2's Irishness
Arlan Elizabeth Hess
5. A Transmedia Storyworld: The Edge Is One, But Not The Same
Fred Johnson
6. Transgressive Theology: The Sacred and the Profane at U2's PopMart
Theodore Louis Trost
7. Transmitting Memories: U2's Rituals for Creating Communal History
Steve Taylor
8. The Transformative Fan: The Bricolage of U2 Live
Matthew J. Hamilton
About the Contributors
Bibliography
Index
Cover photo credit: Ayaz Asif//u2photography.com