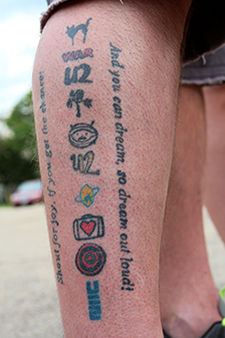 The U2 Tattoo Project is documenting and curating U2 tattoos and the stories behind them.
When you think of bands like The Beatles, The Who or The Rolling Stones, a dominant icon emerges in your mind: the elongated type and fretboard-like "T" of the Beatles, the arrow-protruding "o" of The Who, the lips and tongue of the Stones. But what comes to mind when you think of U2? The hand-brushed grunge script from Achtung? The bold, red Block Gothic face of War? The Joshua Tree silhouette? U2 has become an iconic band with no consistent icon, but rather a history of transient visual identities that embody their eras and represent different emotional experiences for fans.
In the absence of an official logo or singular, long-running, uniform mark, how do U2 fans brand their love for the band? The U2 Tattoo Project aims to study U2 fan tattoos in terms of popular U2 iconography and lyrics, examine the connections between favorite albums and tattoos, and explore what happens to U2's visual identity as it passes into the hands and onto the bodies of fans.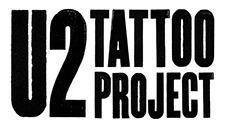 Have a tattoo? Submit via our survey. Follow the project on social media: "U2 Tattoo Project" on Facebook/Twitter/Instagram.