I first shared this first at U2 Conference 2019 Australia Edition on Nov. 21. Really excited to dig into this study more and work on additional reports. I'll write about this set of data soon. Here's the infographic. (And here is a PDF download.)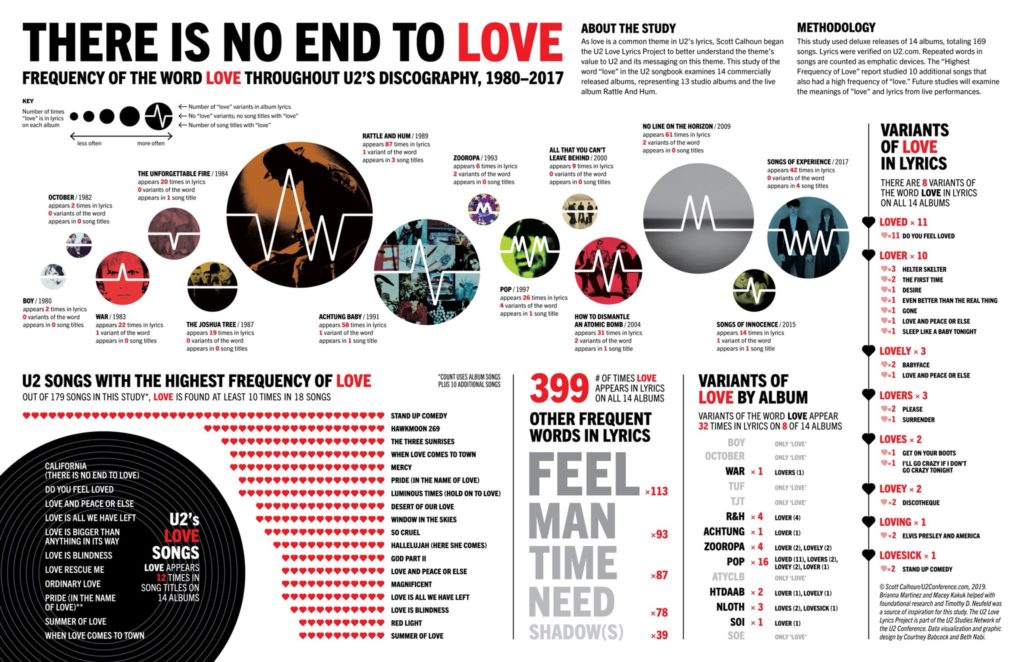 © Scott Calhoun / U2Conference.com, 2019. Brianna Martinez and Macey Kakuk helped with foundational research and Timothy D. Neufeld was a source of inspiration for this study. The U2 Love Lyrics Project is part of the U2 Studies Network of the U2 Conference. Data visualization and graphic design by Courtney Babcock and Beth Nabi.
ABOUT THE STUDY
As love is a common theme in U2's lyrics, Scott Calhoun began the U2 Love Lyrics Project to better understand the theme's value to U2 and its messaging on this theme. This study of the word "love" in the U2 songbook examines 14 commercially released albums, representing 13 studio albums and the live album Rattle And Hum.
METHODOLOGY
This study used deluxe releases of 14 albums, totaling 169 songs. Lyrics were verified on U2.com. Repeated words in songs are counted as emphatic devices. The "Highest Frequency of Love" report studied 10 additional songs that also had a high frequency of "love." Future studies will examine the meanings of "love" and lyrics from live performances.