Contributed by Sherry Lawrence, Staff Writer and podcast contributor, atu2.com
____________________
During "Pride (In the Name of Love" on U2's 2005's Vertigo tour, Bono asked concertgoers to "sing for Dr. King," which connected with a major theme of the tour's second half: "The journey of equality moves on."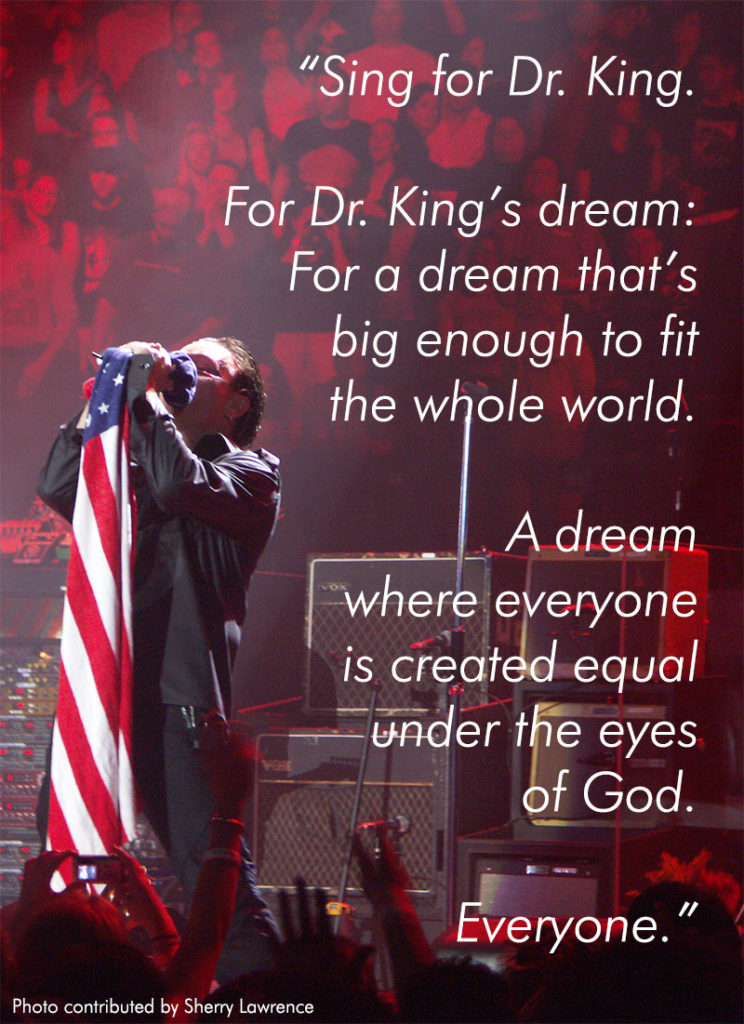 Respecting equal rights requires an acknowledgment of an individual's humanity. If we are indeed created equal under the eyes of God, as Dr. Martin Luther King spoke about, then what differentiates us visually, philosophically, emotionally, linguistically or relationally should not make one person more important or powerful than another. To respect someone's humanity is to respect their place in the eyes of God.
It goes beyond humanity, however; it goes straight to the soul. Bono's Irish Falcon Gretsch guitar famously has engraved on it "The Goal Is Soul." That tagline is heard in "Beautiful Day."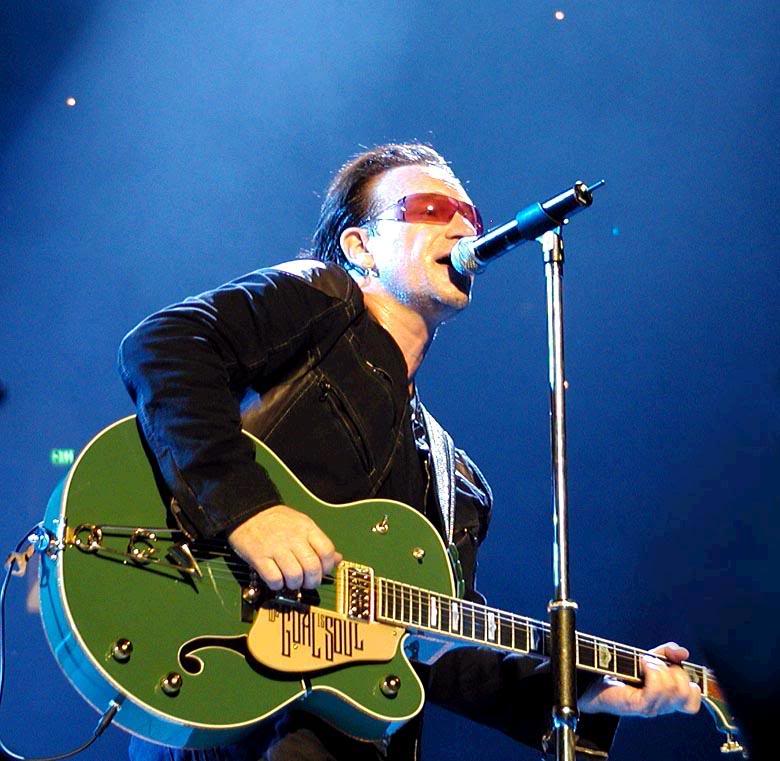 In "Yahweh," Bono sings, "Take this soul, stranded in some skin and bones. Take this soul and make it sing." The soul is the most intimate, sacred space we have as humans.
In America, the nation's soul is suffering. As a citizen, I see how our country is being divided across every feasible data point, representing a person whose humanity is being put into question. For a country that Bono has loved so deeply and opined often about, especially in "American Soul," we are being challenged.
Can we look past the division? Can we see the humanity? As the chorus of "Invisible" goes: "I'm more than you know. A body and soul. You don't see me but you will, I am not Invisible. I am here."
U2 challenges us to find a way to get America's soul singing again. Then maybe, just maybe, that journey of equality can get back on track as we acknowledge each other's humanity.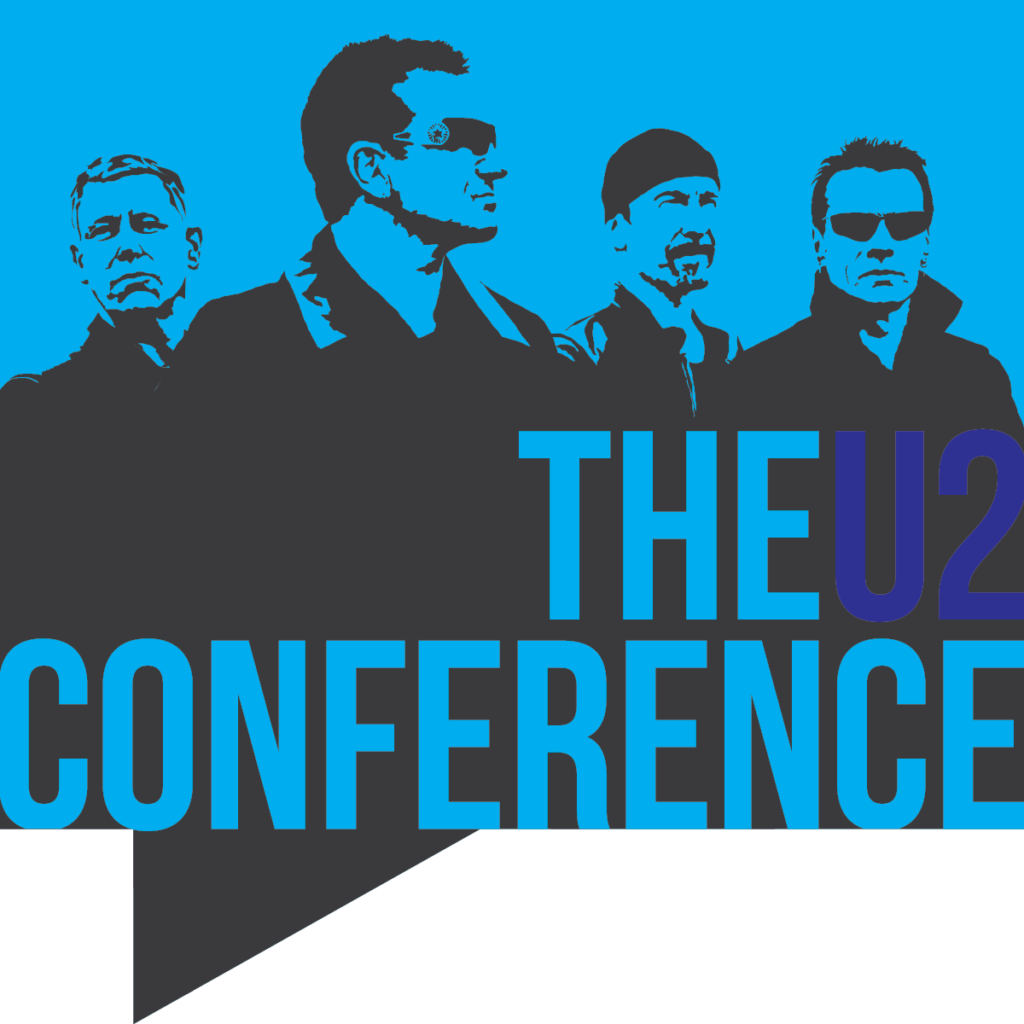 ---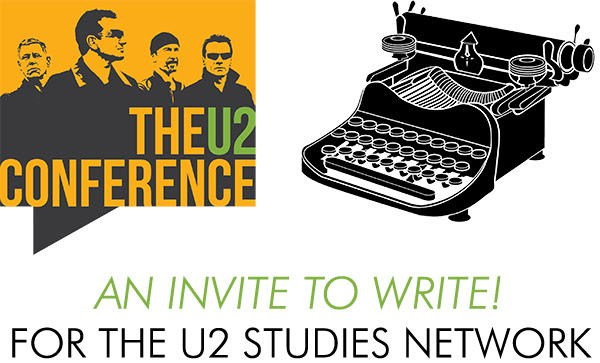 Would you like to contribute to the U2 Studies Network? We'd love to feature your short commentary or essay of 300 words or less on our 2020 conference theme of U2 and America. Or, make a short audio or video comment of around 2 minutes if you're not the writing type.
We're looking for personal narratives, updates on your U2 research, reflections on a U2 song you just listened to, a book you just read or reactions to current events. Just keep it focused on you, U2 and America.
Contact us here for more details on how to make your contribution.
---
Please see our Call for Presentations and our Call for Fan Participation for how you can be on the U2 Conference 2020 program. We hope you'll join us as we examine U2's place, space and sound in the American experiment.
---