---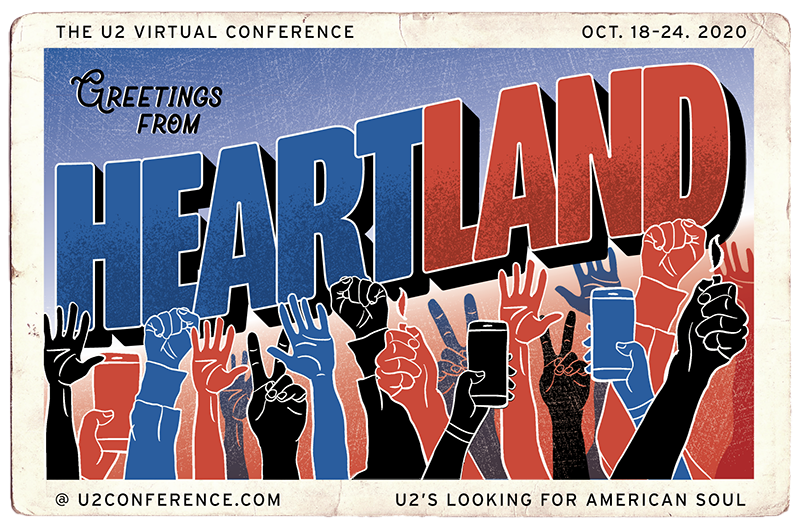 Heartland: U2's Looking For American Soul
An International Virtual U2 Conference For Scholars And Fans
October 18 – 24, 2020
General Registration is $40 USD
Student Registration is discounted 40% at $24 USD
All conference sessions and events will be hosted online at our site with Whova. All sessions are open to all conference attendees.
See a list of keynote speakers, presenters and performers here.

See the schedule here.
Presentations, performances, readings and conversations will be grouped into panel or single-presenter sessions, and will be either live (synchronous), pre-recorded (asynchronus/on-demand) or hybrid. Topic discussion sessions, roundtable sessions and themed meetup rooms are designed especially for participation by all attendees. The session styles will be one of these types:
a panel talk with two or three paper presentations
a single presenter offering a personal narrative and reading
a hosted discussion room based on a topic
a hosted roundtable presentation based on topic
a moderated meetup room for chats on a specific theme
a musical performance
a cooking demonstration and conversation designed for you to cook along with at home
Most sessions will be about 60-minutes long and have time for live Q&A, with the option to continue discussion in meetup rooms after the session is over. Meetup rooms and some discussions groups will be open and running all week long. Many sessions will be recorded and archived for on-demand watching.
---
Join fans, students and scholars for a week of online conversations and critical inquiry into U2's history of looking for America's soul. Using the virtual conference platform Whova, we'll have a variety of formats for attendees to engage in presentations, connect with each other and enjoy the conference community at different times throughout the week.
---