The U2 Conference met April 26-27, 2013, in Cleveland, Ohio.
* For a full listing of the entire program in detail, see the Full Schedule 2013 page.
* To download a web res quality PDF of the 16-page printed program with all events, maps, and presenter information, click here..
* Click on the image below to download a PDF of these grids for Friday and Saturday's schedules. Scroll down below the image for information on the Thursday night and Sunday morning events.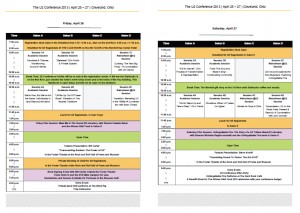 THURSDAY, APRIL 25, 2013
4:00 — 5:00 p.m.: Registration table open at the Marriott Key Center hotel, 2nd floor registration booth.
6:00 p.m. — ??: Welcome Night Gathering at Flannery's Pub, 323 E. Prospect Ave.  Join us for a casual gathering at downtown Cleveland's landmark Irish pub, just a short walk from the Marriott Key Center hotel.  We will have a registration table set in a private room from 6:00 – 8:00 p.m. where you can pick up your conference name badge. Flannery's will give you a 15% discount on your food and beverage bill when you show them your U2 Conference name badge. Starting at 7:00, Cleveland-based Irish folk-rock band Mary's Lane will play a show out in the main restaurant. Sláinte!
SUNDAY, APRIL 28, 2013
9:00 — 10:00 a.m.: (Extra Event) U2charist Service at Trinity Cathedral, followed by a U2charist Discussion with Rev. Kurt Wiesner. Details at our Extra Events Guide 2013.