Would you like to spend a few days with real people, in real time, in a real place having really spirited discussions, debates and discoveries about U2? Are you tired of being lured into arguments online, shut out of conversations and blasted with quick quips? Does all the posturing make you wonder if it's possible anymore to disagree and remain friends? Or even find friends?
Would you like to share, learn, challenge someone and be challenged yourself about U2's music, work and influence, all to come away feeling not only your fandom was nourished but your heart and mind flourished?
Me too. I want to go there with you and you and you …
Let's meet in Belfast, 13-15 June 2018. Belfast's learned how to meet up and talk it through, like they did in 1998 to achieve the Good Friday Agreement. Belfast's a city for conversation. Pop might be U2's most divisive album among fans, so we should have plenty to talk about. And then there's all the rest about U2, ourselves and our worlds we could talk about too.
"A chance to connect with long-time and just-met friends from around the world, a space in which conversation with complete strangers was always easy due to our common vocabulary, a great exercise for intellectual curiosity and the celebration of amazing music." — Angela Pancella, U2CON 2013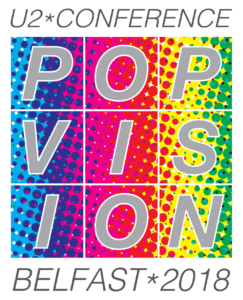 At the U2 Conference 2018, you'll find fans of U2. You'll also be with fans of music, art, activism, social engagement and change. You'll be with people who want to grow and know how to stay smack in the middle of a contradiction and turn it into something positive. U2 fans have no problem holding their own with scholars, teachers, journalists, critics and clerics. We try to bring everyone together because we know it's about everyone, together, talking and listening and building the future we want.
"The uniqueness of the conference was in this blend of fan, academic, and activist audiences. None overshadowed the others but each brought their particular interests and specific energies to the conference. I had a blast just meeting other U2 fans from all over the world and from all walks of life." — Daniel Kline, U2Con 2009
Join us.
Read more about our POPVision conference theme.
Read more about what past attendees have said.
Submit a proposal for what you'd like to talk about by December 31, 2017.
Or, just register, show up and lend your voice to the conversations. Everyone is welcome.
Please stop fighting, please
Let's talk, please – "Please (live from Rotterdam)," Bono