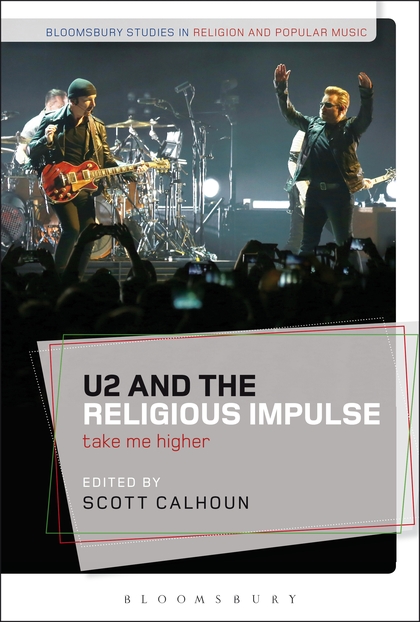 Excerpts From:
"Introduction: U2's Sacrament of Sound," Scott Calhoun, pp. 1-8.
U2 and the Religious Impulse: Take Me Higher. Ed. Scott Calhoun
© (Bloomsbury, 2018)
More information here on the book and a Table of Contents.
When listening to U2 fans talk about being U2 fans and what their fandom means to them, when I hear them express their reasons, their expectations and their experiences with U2's music, what I hear from all fans, no matter their disagreements, is that the music moves them. I hear responses which, upon inspection, are foremost about experiencing music as music and the line running through all the individualistic statements of appreciation for U2's music is much less about lyrics, or guitar solos or Bono's performances, than it is about the total quality of encountering music.
U2's music subdues us. We are overcome. We are cleansed, healed and empowered. We are lifted up and persuaded to do what we could not do before. We become what we could not have become otherwise apart from the music–we feel we are certain about this. We come to and receive U2's music for its ability to connect the ordinary to the extraordinary. Some songs are better for a scourging, others cleanse, heal, and fortify one for what's next. U2 has more songs that do all of the above—such as "One," "With or Without You," and "Moment of Surrender"—than perhaps all the other rock bands, which helps explain how U2 became U2 and why this book exists.
Bono's long been a fan of the English hymn "Amazing Grace," by Issac Newton, and after once telling Steve Turner he thought it was the greatest contribution to music the English have made, Turner was prompted to research and then write the biography of the song Amazing Grace: The Story of America's Most Beloved Song. It seems Bono can't get over the opening lines of the first verse especially: "Amazing grace, how sweet the sound, that saved a wretch like me." He's often revealed his affection and gratitude for grace and its sound in interviews and song lyrics since, but for a short film called A Grand Madness (1997) he said "Amazing Grace" would be his pick for the last song he'd want to play for U2's last concert ever. Why? "It's a sound. How sweet the sound. I've never been able to figure that one out."
In 2010, while convalescing from back surgery but anticipating U2's appearance at the famed Glastonbury Festival, Bono told Rolling Stone's David Fricke that "music is a sacrament for us." In that interview, Bono explained U2's new song, "Glastonbury," was informed by the Christian legends surrounding the flowering white rose of Glastonbury, England, and that for Bono, a pilgrimage to Glastonbury was a more compelling reason to keep U2's upcoming gig than the typical fun a music festival afforded.
In 2014, Bono elaborated on his continuing affirmation of the sacredness of music by implying it is worth a price and therefore Apple had to pay U2 for Songs of Innocence before Apple gave the album away for free: "I don't believe in free music. Music is a sacrament."
U2 fans with deep attachments to the music tend to respect it as a sacrament too, often ritualizing their listening and concert going experiences, and finding they receive a kind of blessing befitting a pilgrimage. … I find ample evidence for concluding U2 has intended for quite some time, perhaps from its first live performances in the late 1970s, to be more Bach than Bacchus, composing for a pattern and glory found in a higher realm, wanting to draw listeners into a grandeur no wine, dance or earthly sensuality can achieve. As sound, U2's songs are transformative, as are the vibrations from Orpheus' plucked lyre, pulsing through us, enchanting even the stones and the stoniest of hearts. We enact our feelings of loss and love with more courage because of this music, and we find that unseen powers seem more inclined in our direction. In return, devoted fans give U2 a high and holy place in their lives, a place typically reserved for an oracle or priest.
In thinking of U2's music sacramentally, or as a pulse listeners seek as a means to an end that body alone cannot achieve, we wish to emphasize in this book the variability U2 offers its listeners who come for this pulse. The dial, whether turned down or turned up, emits good vibrations for its fans, who willingly place their seeking spirits to lesser or greater degrees in the way of the sound.
This book is not an attempt to reconcile the individual band member's beliefs where they differ, nor is it especially interested in ascertaining their individual beliefs. … Reading across all of the chapters, one might detect there are disagreements between contributors as to what is the more important spiritual quotient in U2's art and how one should best receive U2's art.
How one receives art versus how one uses art is itself a fascinating and revealing study of human behavior, which I suspect is similar to the abiding interest the anthropologist has in religion. But the art U2 creates is intentional in its aim at the things of the spirit, and U2 attempts to voice the human experience in all its moods as it lives in bodily space and time. Bono sings laments and yearnings as willingly as he sings resolve, peace, and joy, and the band plays complementary tunings, chords, structures and tempos with equal integrity and artistry. U2's "goal" for the soul "is elevation," welcoming all who wish to journey to a higher place, but U2 will not rush the course or take short cuts along the way.
This interest of the fan approaching U2 in a way similar to how a seeker comes to a sacred text and then, perhaps, attends gatherings organized for inculcating the values and practices developed from that text with a desire to accomplish something the seeker feels unable to accomplish on her own is ­what we in this book examine as the religious impulse in U2 fans. U2 functions for these fans in a way that perhaps is best described as a totem, in the sense of Emile Durkheim's conclusion of how an object or person functions in totemic religions, provoking an energy that loops back through it inflated and amplified by its followers.
This book, in contrast to the previous studies on U2 and religion, furthers the field of U2 studies by suggesting reasons based on more than theological analyses of lyrics for why the religious impulse in fans is so satisfyingly met by U2. Additionally, and uniquely in relation to previous studies, this book also examines why a broader group of religiously inclined fans are interested in U2. Two sections of chapters examine matters of sound and space, respectively, while two other sections explore the affective domains in fans who receive U2 and identify with religious elements found in its songs and performances.
The impulse for something structured and replicable that can elevate body and spirit is an impulse familiar enough to the human condition to not need much proof of its existence, yet understanding the impulse invites a host of disciplinary approaches. U2 has done very well at meeting its fans along the current of this impulse with its sacrament of music. And in doing so, it has become a myth itself for narrating this common but inscrutable truth: that music moves us, most mysteriously so.