Contributed by Monica Moser. Monica majored in political science in college and is constantly keeping watch over events that impact America and the world. She's been a U2 fan for 20 years and they are a constant source of inspiration for her.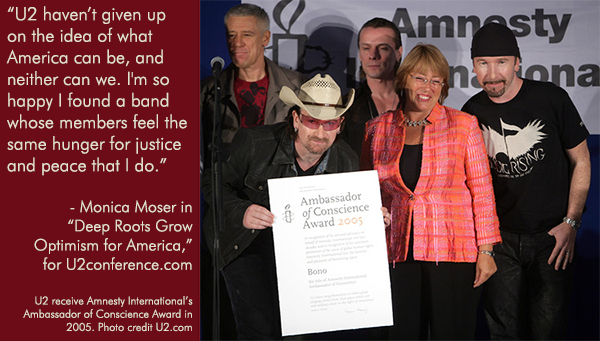 U2's roots in America run deep – maybe not as deep as in Ireland, but the band has had a profound impact on this nation. I'm so happy I found a band whose members feel the same hunger for justice and peace that I do.
From writing about Martin Luther King Jr. in "Pride (In the Name of Love)," to performing on the Conspiracy of Hope tour for Amnesty International during the summer of '86, they've never shied away from standing up for what they believe in.
Their song "Bullet the Blue Sky" was at that point their most blatant diatribe against unwise American foreign policy, and its words ring as true today as they did back then.
U2 were pivotal in the Jubilee Drop the Debt campaign in 2000, and Bono has shown time and time again his willingness to work across the political aisle to fight for the world's poor. He used his talent of persuasion to convince U.S. President George Bush to start what became known as PEPFAR (President's Emergency Plan for AIDS Relief), which to this day has saved 18 million lives.
After the terrorist attacks on Sept. 11, 2001, U2 reached out to America as part of the Tribute to Heroes benefit concert. Their performance of "Walk On" is forever etched in my heart — it was my first time seeing them perform, and started my love affair with this wonderful band.
Their performance at the Super Bowl halftime show was even more stunning and heartfelt.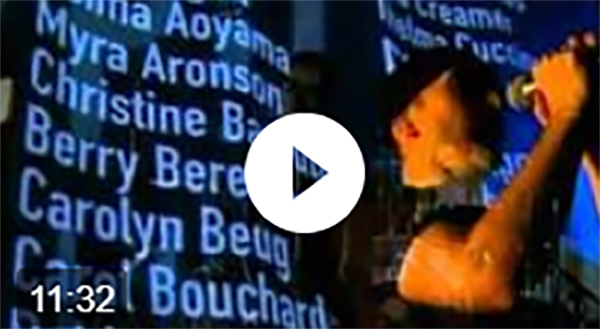 Their participation in the ONE campaign has been essential to securing support for this global movement to end extreme poverty and preventable disease.
America is going through treacherous times right now, and her very soul is at stake, but with the right guidance this country is capable of incredible things.
Bono stated recently that "America might be the greatest song that the world has never heard." U2 haven't given up on the idea of what America can be, and neither can we.
---