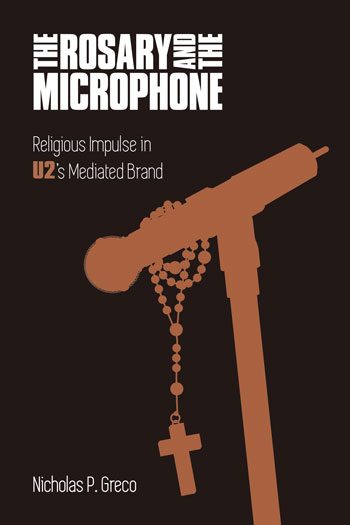 A Love Letter With Lapses and Limits
Review by Ian Greig
BOOK REVIEW FOR THE U2 STUDIES NETWORK
The Rosary and the Microphone: Religious Impulse in U2's Mediated Brand
Equinox Studies in Popular Music
Nicholas P. Greco
Equinox Publishers, 2019
$100 hardback | $32 paperback and eBook
" . . . (This) is a love letter to U2. It should be clear that I am a fan-scholar and so I am biased to look at the band positively." So writes Nicholas Greco in his Preface, whilst still asserting a few pages later in his Introduction that, "U2 are not a rock band. U2 are a corporation. U2 are an institution that makes music and goes on tour . . . Music for U2 is not an afterthought, but it is also not an end" (2).
Interesting opening to a love letter.
The book's title, The Rosary and the Microphone, refers to Bono's final stage moments on the 2005 Vertigo Tour in Chicago as he hung his rosary from the mic stand and left the stage while the crowd continues singing "40." Greco uses this image as a metaphor to examine the crossover between U2 the performing band and U2 the actors of religious faith and activism.
Greco divides U2's career into four parts roughly akin to each decade of the bands' existence. He covers a lot of ground in seven well-researched and referenced chapters. There are definitely places where the reader may wish that he would explore and develop an idea with more depth, but there are limitations of space for any book.
The first chapter is a potted history of U2 that ends with a summation of the reviews of Rattle and Hum, relying, for example, on Jon Pareles of the New York Times. Only in the final paragraph of this chapter does Greco establish his own analysis, when he examines the "One Tree Hill" clip in the film in depth. The book is much stronger in moments like this, when Greco directly examines the core source material—that is, the work created by U2—rather than relying on a critic's opinion of what U2 did or did not achieve.
Greco defines his approach as Barthesian, as he conducts his own semiotic study of U2's "signs." (Greco states that the book is also a love letter to Roland Barthes.) He aims to focus on the band (or "brand's") performances primarily through the study of films released by the band. This can be a reductive approach given the limitations of film's two dimensions (it is worth noting he does not include U2-3D in his analysis), but Greco's decision does allow the reader to directly investigate his primary source material.
The use of Barthes is intriguing, as his ideas are most widely known from his essay "The Death of the Author" and his collection of essays Mythologies. Using Barthes to analyze popular culture has merit and even reflects Barthes early writing where he analyzed professional wrestling as "culture." However, Greco's focus is mostly on applying the thinking of the latter-day Barthes, particularly in Mourning Diary, and, a little more oddly, on what is known of Barthes personal life and his relationship with his mother.
Greco claims there are links between U2 and Barthes. At times the links between the two can be tenuous, such as when Greco writes, "Barthes' project is represented in the . . . aphorism 'One writes in order to be loved.' U2 seemingly respond to the French theorist with 'Do you feel loved?' . . . As if the band are in conversation with him." Granted that is only in the book's Introduction, but it seems a long way to travel to establish the link and it is unclear whether this imaginary Venn diagram achieves anything of note.
While there is nothing particularly wrong with focusing on Barthes' writings from later in his life, Greco tries to draw links between Barthes' actual life and the life of Bono, which is a bit more tenuous and lacks the intellectual rigor he displays elsewhere in his study. The line between Bono and U2, assuming there is one, is problematic for many. Is U2 Bono? Does Bono speak for all in the band? Is this at least true in performance, where Bono's words seem rehearsed (maybe through repetition in performance) if not scripted? In this book, the dividing line, if it exists, is blurred and Greco seems to rely on what Bono has said the band are doing or what they intend to do, rather than just analyzing and responding to the "brand."
Greco also tries to drill down into "Bono's persona," noting that apparently even Bono's wife Ali calls him Bono. He contrasts this with what we know of Paul Hewson. This tension was addressed in part by U2 in their 2018 "Experience" concerts in Europe, when Bono delivered a scripted speech in the second part of the concert to mock the way he and the band were put on heroic pedestals in comparison to the people he said were real heroes: "firefighters, nurses, teachers." Bono would then tell a story of returning to Cedarwood Road and being confronted by a neighbor who called him "Paul." His response: "Paul! Paul! Who is Paul? I am fucking Bono! This is the Edge!" Bono's decrying of the band's status as heroes while still ironically embracing it set up the song "Even Better Than The Real Thing." It was moment of humility quickly overpowered by the band. It worked, however, as a nod and a wink to the audience. It also recalled Bono's reflections on the 1987 Joshua Tree tour, in which he acknowledged he had created a "persona to protect [himself] and then [was not] able to live up to the persona."
As a further observation on Greco's choice to employ Barthes' theories, when he uses reviews or interviews with the band and Bono, rather than what is captured in the "primary texts" of U2's films, it seems to undermine his Barthesian approach. By relying also on comments made directly by the band in "secondary texts" such as interviews, Greco accepts the power of the words of "the author" (whether Bono or U2 themselves) for shaping his response to U2's work.
Defining U2's "brand" can be problematic. The assumption would be that a book on U2 would focus on the work directly created by the band, but Greco—without explicitly stating it—considers work not made by the band but which has a connection to the band. He devotes an entire chapter to analyzing the Anton Corbijn film Linear, which accompanied No Line On The Horizon. Though the film occasionally features the band and uses an idea of Bono's, it is essentially the work of Corbijn. Perhaps it is here that the "Death of the Author" theory is most faithfully applied when Greco responds to the work itself. His analysis of the film is thorough and insightful, and he highlights Barthesian concepts he sees in the film.
When Greco directly address the work of the band he produces some insightful analysis and the strongest elements of the book. At one point he investigates the use of the cityscape in U2 through the lens of an early 20th-century music critic, Paul Rosenfeld, and the theories of Fredric Jameson. At another he uses the work of Paul Virilio and the concept of "dromocracy." Similarly, he offers some analysis of the short films accompanying "Song for Someone" and "You're The Best Thing About Me." In both cases, he explores the "religious impulse" in these "mediated brands." He links Woody Harrelson's performance in the film for "Songs For Someone" to the concepts of the stops in the Catholic Stations of the Cross. There is limited space in any book, but it would have been interesting to see his analysis of the profound and moving "Love Is Bigger Than Anything In Its Way" film, which was used during performances in the European legs of the Experience tour.
The book's subtitle is "The Religious Impulse in U2's Mediated Brand." This reader felt as though the religious impulse wasn't consistently explored in the depth the subtitle promised. It felt as though the loaded connotations of "impulse" were largely set aside. Greco links his own Christian faith to his love of U2, but only occasionally seems to dig deeper in exploring the "religious impulse." He defines Evangelicalism rather narrowly and whilst correctly describing U2's initial relationship with that aspect of Christianity, he omits discussing the evangelicals who sit on the left of the political spectrum, such as Jim Wallis in the U.S. and the late John Smith in Australia. Bono has a connection with both men and wrote admiring statements for the covers of books written by both men. In 2019, a eulogy from Bono was read at John Smith's funeral.
Greco also discusses U2's relationship with nationalism and their "Irishness." He examines the band's embrace of America, particularly its use of the U.S. flag in concerts. This opens up other avenues of inquiry in terms of their appropriation of national symbols. The question of embracing national signs arose on the recent Australian Joshua Tree tour where U2 chose to close their concert by displaying the somewhat problematic Australian flag toward the end of "One."
The final chapter examines Songs of Innocence as "Barthes' Ideal Novel." It's disappointing to see Greco claim the controversy over how U2 released the album in 2014 as a basis for calling it "anathema to Barthes' notion of a novel being free from power." This seems a glib response rather than a critique of the album itself. Greco then focuses on the song "Iris" rather than considering the entire album, which allows him to link to Barthes own relationship with his mother. It's surprising, given the title of the book, that Greco does not explore the religious implications inherent in the title of the album with its echo of William Blake's volume of poetry. It is unfortunate that he didn't consider the "religious impulse" apparent across the whole album.
In his Conclusion, Greco offers a few paragraphs of others' reviews of Songs of Experience but does not make an analysis of his own. Most of the Conclusion discusses a "cosmopolitan Christianity" and U2. When it is clearly focused on the band and their work it is a strength, but when Greco dives into an exploration of "cosmopolitanism" that links to the band but does not have U2 at the center, it is a frustration.
As most studies will generate a few minor quibbles of a more personal type for readers, this reviewer shares just two here. Greco said U2 fans have to pay more for standing room premium tickets at concerts, but except in the relatively small Red Zones, this has never been true on the tours to Australia. Indeed, it should be noted that relative to other concerts, U2 have kept their general admission prices low. By lining up early, this reviewer has always been able to be in a prime position for the show. A second reaction is Greco references Bruce Cockburn's song "Fascist Architecture" and, to this reader's understanding, misrepresents what Cockburn is writing about. It's a minor point, but when two artists who are much admired by many fans—and who share many of the same fans—are brought together in discussion, it detracts from Greco's point when a fan thinks he's made an interpretive error.
The Rosary and the Microphone is at turns intelligent and stimulating, offering insight into what, for this reviewer, is a beloved band. There are apparent lapses where the focus veers away from expectations set by the title, though much of the book is an engaging, well-synthesized academic study that was overall enjoyable to read.
Ian Greig holds a B.A. Dip Ed. and an M.A. (Performance Studies) from the University of Sydney. He teaches high school drama and English literature classes and lives in rural NSW, Australia.