Reviewed by William R. Upchurch, University of Pittsburgh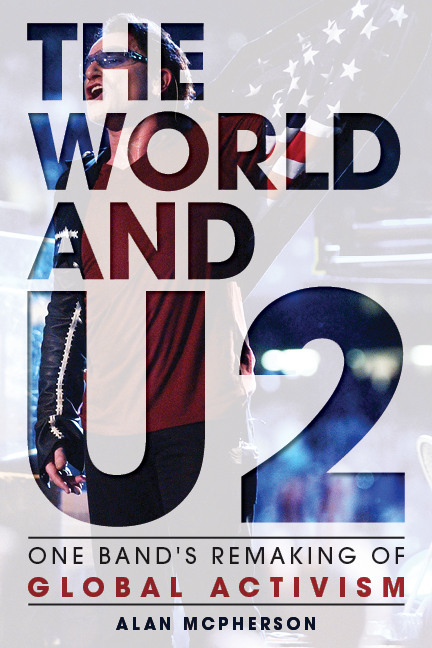 The World And U2, by Alan McPherson, a professor of international and area studies at the University of Oklahoma, and a longtime U2 fan, is subtitled "One Band's Remaking of Global Activism," but it might be more accurate to think of this story as one about how global activism remade a band. Despite the band being mentioned twice on the cover, McPherson's narrative primarily follows Bono's personal transformation from "Mount Temple kid" to "superstar lobbyist," and is written with a Shakespearean eye for tragedy and a historian's eye for the details needed to bring the drama to life. Bono emerges as a Joseph Campbell-esque hero who finds himself in the dragon's lair after a journey through the many layers of global poverty, sickness, and war. The supporting players are all accounted for, but as Larry Mullen, Jr. said, "Nobody could argue with what he was doing, it was clearly too important." Bono's activism was important for whom, though?
The World And U2 is a short book, at 104 pages plus notes, which works both for and against it. The brevity makes it a breezy read, particularly for U2 aficionados who are well-acquainted with the different periods of the band's history. After losing touch with his youthful passion for the band and writing six books on what he calls "serious" issues, McPherson decided to "reconnect with Bono and the band by writing about something we should all take seriously — their activism." The book's meticulous notes and bibliography are an obsessive U2 fan's dream. (U2 fans tend to share their idol's love affair with data.)
The book's chapters are arranged in chronological order, following the band members' adolescence through Songs of Innocence and what McPherson judges to be "the final stage of their career." Community, faith, and action are presented as both the "pillars of U2's activism" and as "lessons … that all activists or would-be activists should carry with them as they fight injustice." As with many books about U2, each era is brought to life through a combination of cultural and historical context and the band's own words, of which there never seems to be a shortage. McPherson does a better job than most at connecting the two, though, and he is able to draw out some nuances in the band members' thinking that other books gloss over. For example, he links the rant against televangelists in "Bullet the Blue Sky" to the band's eye-opening first encounters with American televangelists in the early 1980s. These details blending historical context with the band's broadening global awareness are worthy additions to U2 lore.
Whether intentional or not, U2 has always tried to be relevant by pitting its musical identities against the tides of both dominant and counter-cultures: Bono's rejection of punk's disdain for its audience; earnestness in the face of the "false optimism of Ronald Reagan"; self-aware irony in the face of the band's earnestness; and most recently a celebration of nostalgia in the face of a fetishization of the future. U2's activism demonstrates its identities have been a part of its collective personality from the very beginning and has, perhaps, functioned as an outlet for the complexity that's actually in the band, which can get obscured by the process of making and selling records.
Examining U2's global claims and consciousness apart from its songs – even while telling those stories in parallel – is one of McPherson's outstanding contributions to U2 scholarship. So much of what is written seeks to imbue the songs with personal meaning drawn from the band member's lives, but The World and U2 clarifies the distinction Bono has attempted to articulate for years: Regardless of how they spend their free time, they're still in a rock band. McPherson's inductive approach more closely mirrors U2's creative process than does the usual approach of textual analyses of lyrics, and is wholly appropriate for the book's subject. It illustrates the recalcitrance of injustice and inequality, in whatever form they take at a given time, which is an underlying theme of both Bono's and the reader's journeys. It is a startling and universal realization for activists of all stripes, and since informing activism is one of McPherson's goals, it helps put the book into a clear focus. Community, faith, and action are not presented as a template for successful global activism, they are merely what keep the members of U2 grounded and fighting. Readers are challenged to find their own pillars, and perhaps to reflect on the story of how one group negotiated the complexities of living in a world it desperately wished to change.
At the beginning of this review I asked, "For whom was Bono's activism important?" During a 2000 interview, Bono defined rock and roll as "that thing of wanting to change the world, or take on the world, at least the world inside your head." The World and U2 articulates the band as an expression of this ethos, and presents Bono, in particular, as an archetype for whom injustice becomes a metonym for the turmoil inside his heart. The frustration felt by young Bono manifested itself in his early insistence on small-scale action as a catalyst for change. It came out stronger and clearer when at the height of the band's success/excess, Bono turned to advocating larger structural solutions for redirecting the world's wealth and power to bring about justice. The farther removed he became from his mother's death, his father's stoicism, economic uncertainty, and the street violence of 1970's Dublin, the more cerebral his activism became. McPherson's writing conveys a real sense of loss as the deeply personal spirituality of U2's early activism gave way to the detachment and cynicism, however necessary, of managing a series of global activist brands, such as ONE, DATA, (RED), and even the brand of Bono himself.
It is a social justice hero's journey, but McPherson does an outstanding job of weaving commentary on the changing contexts of activism over the period into the book. In a clever turn, he uses U2's celebrity to call attention to a serious issue, just as Bono trades on his own fame. And here is where I think the book's length works against it, especially in the final chapter: McPherson hints at a critique of contemporary celebrity activism that I would have liked to see developed more fully. The end of the book floats away amid a relentless stream of facts and statistics, yet the underlying narrative about the changing face of global activism is what makes this not just another book collecting quotes and anecdotes to tell the well-worn story of U2. McPherson drops bits of commentary here and there, but I would have welcomed more of the author's voice in expressing the significance of the story just told, and I think it would increase the book's appeal for a broader audience.
Still, I recommend The World and U2 to both activists and fans alike. For fans, it evokes the "feeling" of the band better than any book except U2 By U2. For activists, it transfers those feelings to a particular history, helping make sense of the very public twists and turns of U2's activist career. At one point, McPherson reports Bono's claim that The Clash "gave U2 the idea that social activism could make for a very musical riot." As it turns out, the combination of activism and U2 also makes for a very readable and interesting book.
William R. Upchurch is a doctoral candidate in Communication at the University of Pittsburgh, where he is also an instructional designer and teaches Gender, Sexuality, and Women's Studies. His work focuses on the intersection of rhetoric, social media, and game studies, with an emphasis on the development of online culture and identities. You can reach him at wru3@pitt.edu or his blog www.wrutheday.com.
---