In Interview, Authors Say Bono Has Been "Willing To Do What It Takes" To Advance God's Work
Kate Etue and Caroline Siegrist selected Bono as one of their Stand-Up Guys: 50 Christian Men Who Changed the World. Their new book is out today from the Zonderkidz imprint of Zondervan.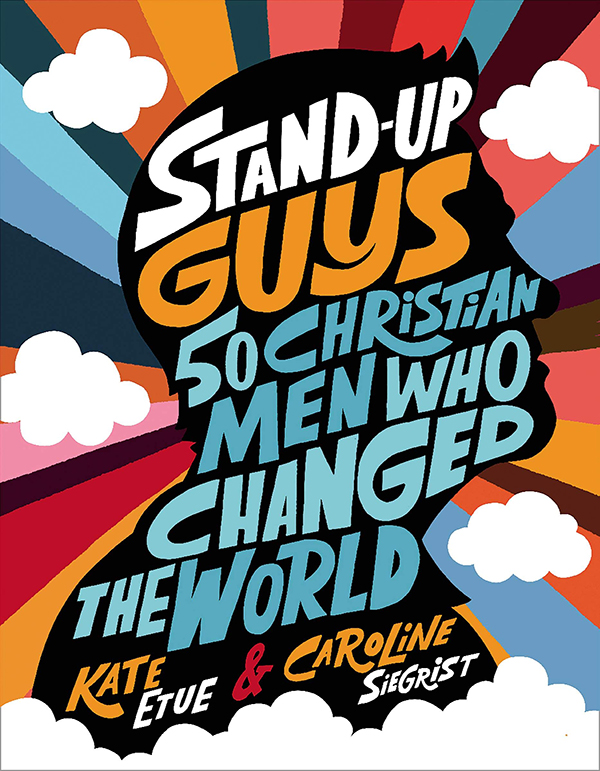 Bono is in the company of a global list of men drawn from the past and present. They are notable for practicing their Christian faith with unique acts of kindness, with some going as far as sacrificing his own life. Each of the 50 men has a one-page description of what makes them a world-changer, followed by a few questions to inspire readers.
For Bono, the authors explained he experienced personal loss as a teenager and later became aware of violence and injustice in Ireland. He turned to music to help him with his grief and anger, instead of turning to others things that wouldn't have been good for him.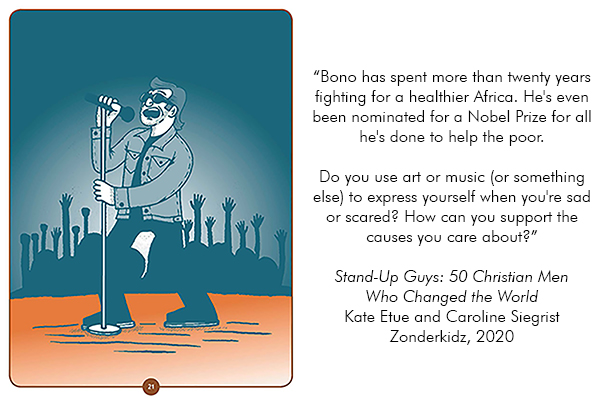 After finding some success with his friends in a band, "Bono's faith told him that just being a 'good voice' wasn't enough. God wanted him to go out and see what he was doing around the world, so Bono could get involved in God's work. So Bono and his wife, Ali, traveled to Ethiopia to volunteer at an orphanage."
I spoke with Kate Etue by email to learn more about why she and her co-author picked Bono as one of their top 50 "Stand-Up" guys. I also learned Etue and Siegrist are already working on their next book, tentatively titled Fierce Faith: 50 Christian Women Who Changed the World.
U2 Studies Network: Bono's not the only rock-star activist out there, but he's the only one in your book. Why did you pick him?
Kate Etue: I have followed Bono's work for years, particularly his focus on eliminating extreme poverty and AIDS in Africa. He's long been a hero of mine for his passionate response to God's call to care for the poor, and that's why we picked him. There are so many people doing great things in the world, but Bono's long track record in this area made him rise to the top of our list.
Were you or your publisher concerned about any pushback from some Christian readers who might wonder why Bono is on your list?
Not at all! We really wanted to choose people who were interesting, honest, and authentic in their work. We steered away from those who tried to present a squeaky-clean image and focused on those who are willing to do what it takes—sometimes hard, unpopular things—to advance God's kingdom around the planet. We've chosen climate change activists, vegans, disability advocates, and immigrant-rights activists who may rub some people the wrong way, but we believe they're all doing God's work by loving others in Jesus's name.
Are you a U2 fan as well, or more a fan of just Bono?
I grew up in a pretty conservative home when it came to entertainment, so I wasn't exposed to much U2 other than their huge hits until college. But I became a big fan quickly, especially of their songs about political activism and faith. It was a dream of mine to get to work with them in some way, so when I had the chance to collaborate with DATA (the pre-cursor to the One Campaign) to include Bono's essay and photos in a book I co-compiled called The aWAKE Project: Uniting Against the African AIDS Crisis, and then later on his original book On the Move, it was a dream come true. I've been lucky enough to see a few of their concerts, and it's always an amazing experience.
Do you have a favorite U2 song? Maybe one that represents the qualities you are celebrating by including Bono in your book?
The song "Crumbs From Your Table" comes to mind, which really calls out those people who talk a good talk but don't actually do anything to effect change. And "Sunday Bloody Sunday" is a classic, where Bono's lamenting how long mothers, sisters, brothers and children will have to be torn apart. Although he's specifically talking about the violence in Northern Ireland in that song, I think it applies across generations, countries, and conflicts. His passion always comes through in his performance, and I believe that along with his faith and family is a huge part of what drives his work.
© Calhoun / The U2 Studies Network, 2020
---