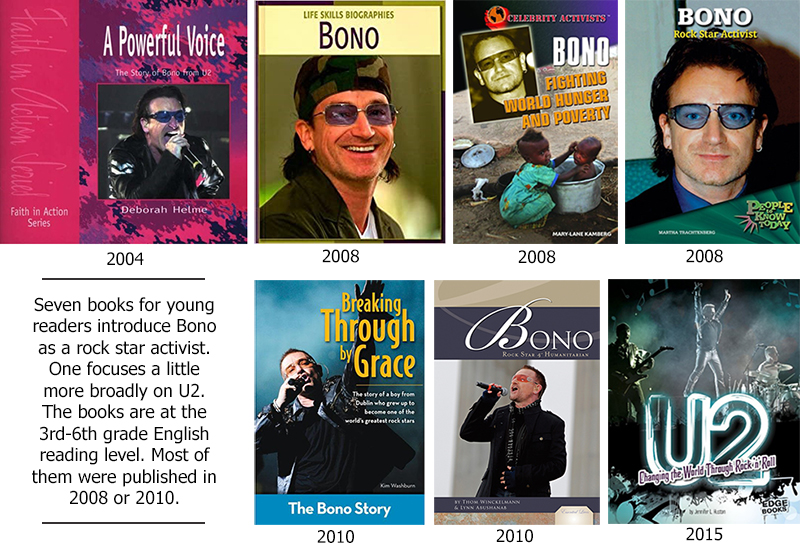 Are your young kids now "stuck in a moment" at home, looking for more to read? Why not introduce them to your favorite rock star activist? And if you're doing the homeschooling, with this mini-library of seven choices you could even create a whole lesson unit on Bono for young readers.
Tell someone three things you learned about Bono from this book.
Compare and contrast two biographies of Bono. Which one did you like better and why?
What makes Bono want to help people who are hungry, sick, or treated unfairly?
Try writing a song about something you can do to help someone else.
You get the idea …
If your child reads one of these books and wants to write a super short book report, I'd love to publish it on this site for others to read. Really! Contact me if you are interested.
All of these books are still in print and available for order online. They are listed below with complete bibliographic details. They are also listed on the U2 Studies Bibliography, along with 100+ resources for fans, students, and scholars of U2.
If you are looking for a high school reading level book on Bono or U2, I suggest the two books by David Kootnikoff on the bibliography. (However, there are very few pictures in those books!)
An excellent, well-researched introduction to U2 for an adult reader is Timothy D. Neufeld's U2: Rock 'n' Roll to Change the World.
---
Seven Bono Biographies for Young Readers
Ditchfield, Christin. Bono. Life Skills Biographies. Ann Arbor, MI: Cherry Lake Publishing, 2008. (For elementary or middle school readings levels, 43 pages.)
Helme, Deborah. A Powerful Voice: The Story of Bono from U2. The Faith In Action Series. Norwich, Norfolk: RMEP, 2004. (For elementary or middle school readings levels, 24 pages.)
Huston, Jennifer L. U2: Changing the World Through Rock 'n' Roll. Legends of Rock Series. North Mankato, MN: Capstone Press, 2015. (For elementary or middle school readings levels, 29 pages.)
Kamberg, Mary-Lane. Bono: Fighting World Hunger and Poverty. Celebrity Activists Series. New York, NY: Rosen Publishing, 2008. (For elementary or middle school readings levels, 112 pages.)
Trachtenberg, Martha. Bono: Rock Star Activist. Berkley Heights, NJ: Enslow, 2008. (For elementary or middle school readings levels, 110 pages.)
Washburn, Kim. Breaking Through by Grace: The Bono Story. Grand Rapids, MI: Zonderkidz/Zondervan, 2010. (For elementary or middle school readings levels, 93 pages.)
Winckelmann, Thom, and Lynn Abushanab. Bono: Rock Star & Humanitarian. Edina, MN: ABDO Publishing, 2010. (For elementary or middle school readings levels, 94 pages.)