Once again for the U2 Conference, Beth Nabi has created amazing artwork with intelligent references and messaging. She describes the branding identity below.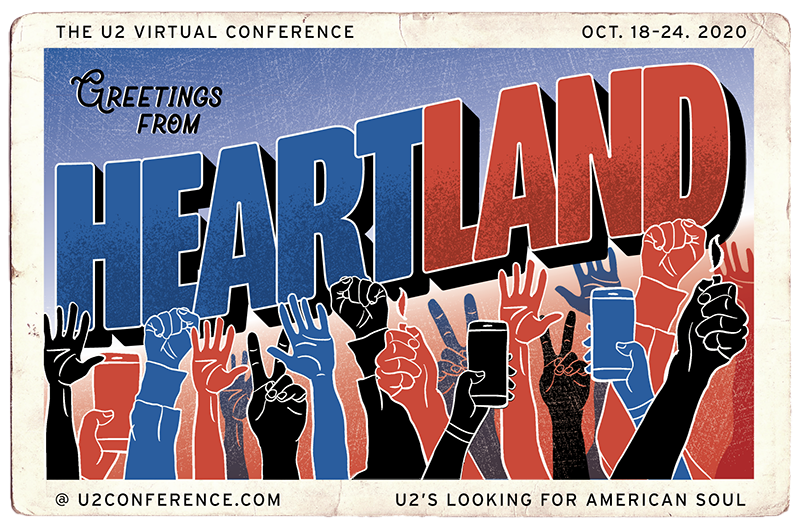 Heartland: U2's Looking For American Soul
Design Articulation for the 2020 U2 Conference
Beth Nabi
"America both fascinates me and frightens me."
With these words, Bono summarizes the duality of his feelings for the United States, a perspective evident on The Joshua Tree and Rattle and Hum, albums that are simultaneously love letters to and laments for the same place. The visual system for this year's international virtual U2 Conference approaches "America" much the same way as Bono does — as a place, an idea, both fascinating and frightening to navigate on our uneasy journeys looking for American soul.
The graphics were inspired by the "large letter" linen-textured postcards made popular in the 1930s by German-born printer Curt Teich, who immigrated to America in 1895. Dominated by bright, saturated colors and three-dimensional text, these souvenir postcards were the Instagram brags of the 1930s–50s. They depicted cheerful, scenic, idealistic representations of the nation's states, cities and attractions during a time of flourishing domestic tourism travel.
Sixty-six, a highway speaks
Of deserts dry
Of cool green valleys
Gold and silver veins
All the shining cities
It was the heyday of American car culture — new highways were being constructed, automobile production was booming, and private car ownership was on the rise. People were driving across the country, discovering its beauty both natural and manmade, and sharing "Greetings From" their travels with loved ones back home. It was a time of hope, optimism and discovery — and these bits of ephemera documented it all.
The visual reference to the large-letter postcards is ironic on a few levels. It harkens back to one of America's utopian "great" eras, that was great for only a few. It arouses nostalgia for the mid-20th century middle-class American pastimes of travel and leisure. But these pastimes were more myth than reality for many who couldn't travel without fear and for whom leisure was a foreign state of being. Additionally, the graphics ironically appropriate ephemera that glorified tourism and travel while we currently sit in isolation and lockdown prompted by a global pandemic. We are stuck in a moment when travel, if it happens at all, is no longer motivated by wanderlust but by necessity, mourning and protest.
The vintage postcards were always inspired by a sense of place — scenic views being cookie-cuttered into the large letters. The main conference graphic expresses America through a sort of dichotomous placelessness that holds all the exhilaration of a live concert and, at the same time, all the suffocation, exasperation and asphyxiation of the current climate of civil unrest and political protest. The gesturing hands all represent visual double entendres — the hands that build can also tear down. There are hands raised in the air, representing both the euphoria of being at a concert, as well as the "hands up, don't shoot" rallying cry inspired by the police killings of Black Americans. There are fist pumps celebrating rock 'n' roll and fists raised in protest. There are hands throwing V-signs, a request for peace whether seen on stage from our favorite rock star or in the crowd at a march. There are hands holding cell phones, filming concert performances as well as acts of police violence. There are hands holding lighters, for the emotional pitch of a show and to set the fires of protest — from the torch of liberty to the tiki torches of white supremacy.
The visual system continues into the keynote speaker postcards. Where pictures of places would normally appear, the speakers' photos and names become the dominant imagery — the new mental landscapes and intellectual destinations the conference will allow us to visit. The overwhelming use of patriotic red, white and blue starts to transform them into political ads and campaign yard signs, more ephemera that renew our sense of voice, agency and democracy.
In 2020, "Wish you were here" has turned into "Wish I were anywhere but here." We look not out of car windows but into Zoom windows. Previous U2 Conferences have gathered fans and scholars in amazing locations: Raleigh, North Carolina; Cleveland, Ohio; Belfast, Northern Ireland; and Sydney, Australia. This year, as we do in so many other facets of our lives now, we will gather online. But the event will be nothing short of amazing again as we gather together to American-soul-search; to look for a place where ideas are moving, welcome, different — big enough to fit the whole world.
Beth Nabi, Associate Professor
Graphic Design and Digital Media
Department of Art and Design
University of North Florida
Jacksonville, Florida, USA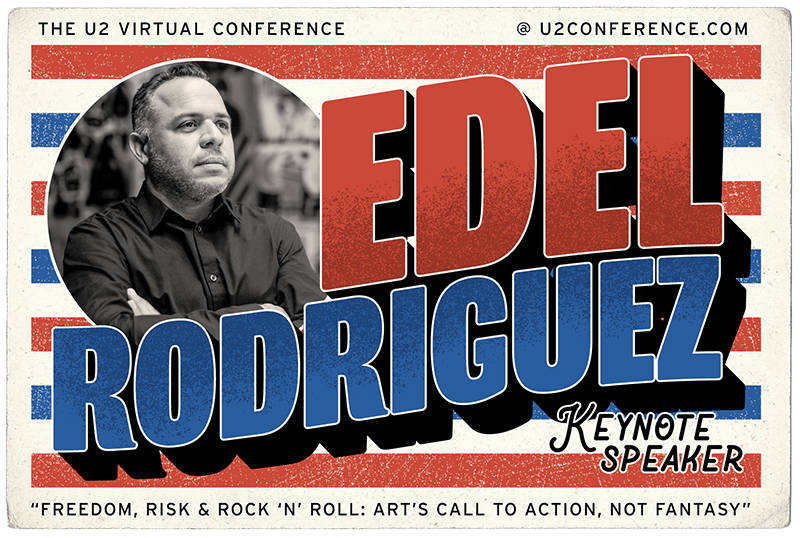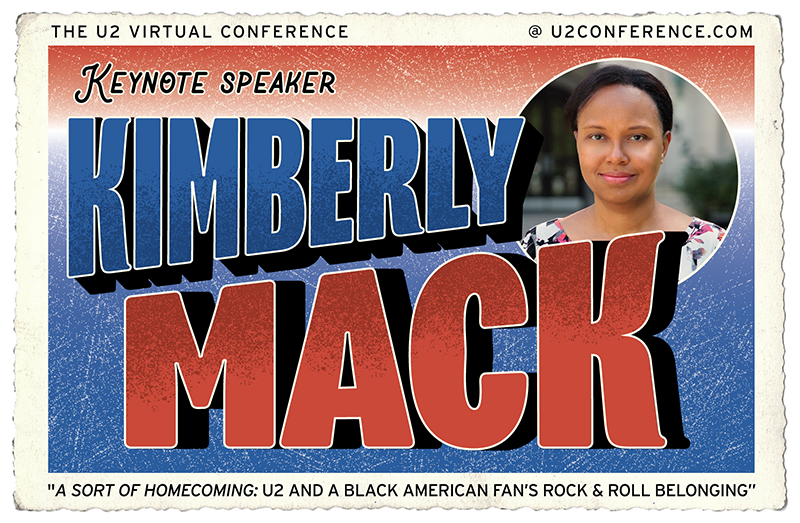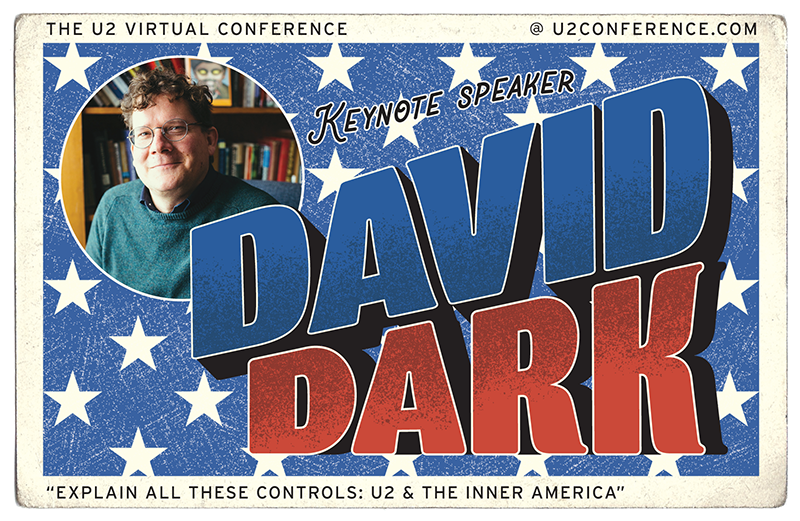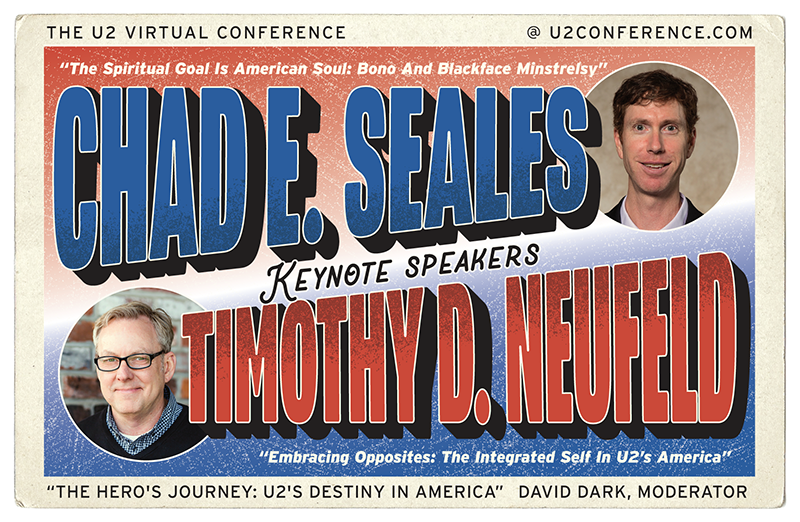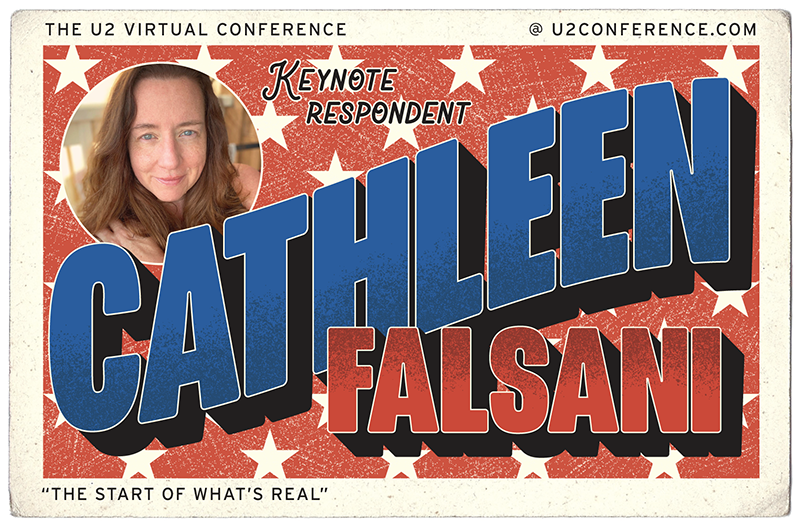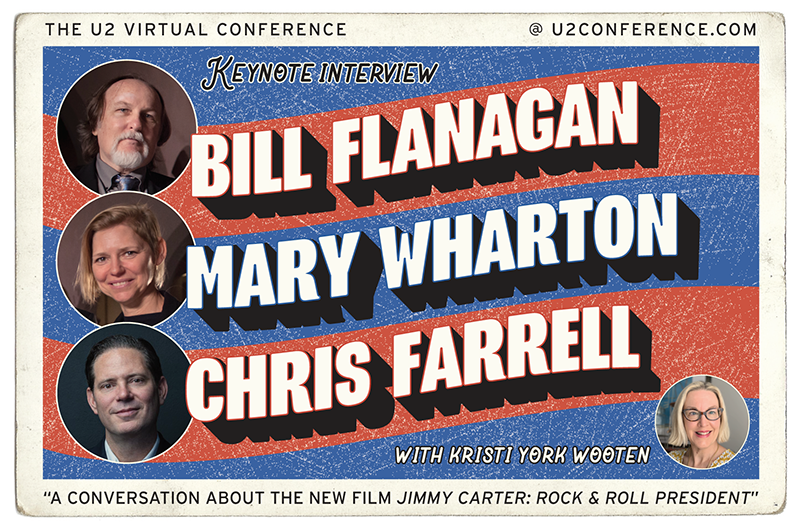 ---