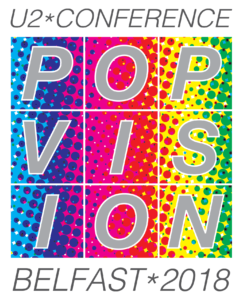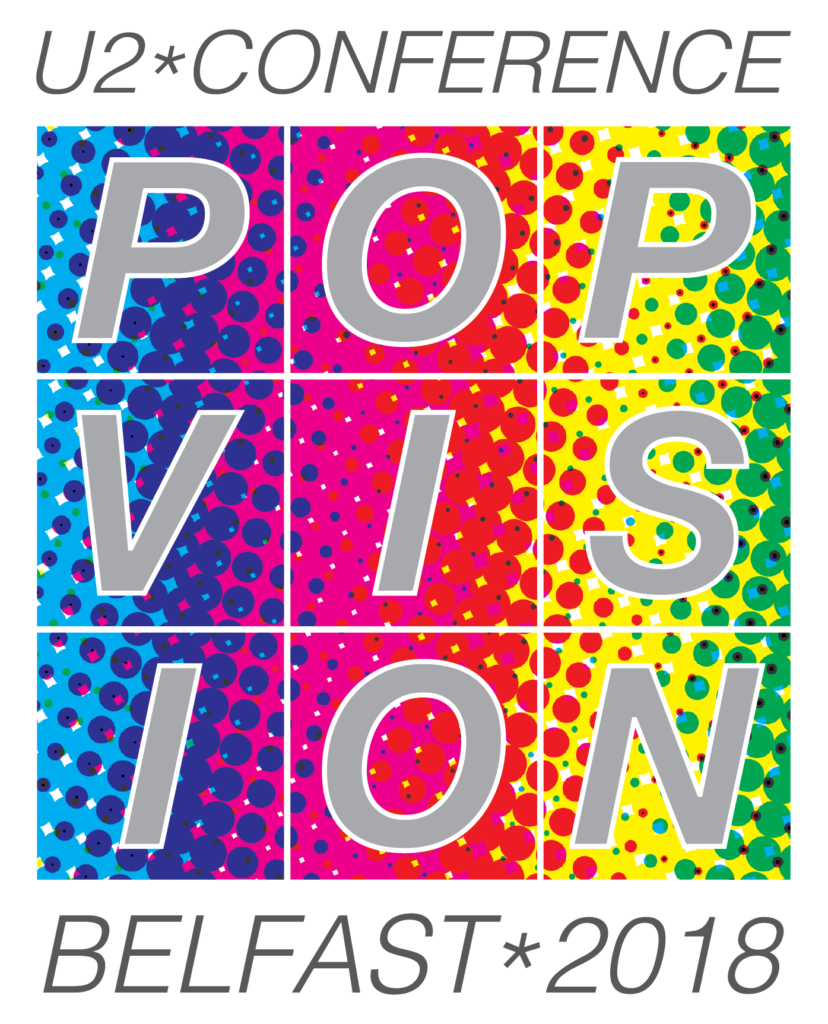 The U2 Conference 2018 will meet from 13-15 June in Belfast.
Registrants have access to all presentations, events, lunches, receptions and breaks listed on the program schedule below. The schedule is subject to change. Summaries of paper presentations for the panels below are listed separately here.
Please consult the Locations and Accommodations page for a map and more information about locations Belfast.
13 JUNE 2018, WEDNESDAY
1:30 pm: Registration opens
Fitzroy Presbyterian Church
2:30 – 3:00 pm: Welcoming remarks from Scott Calhoun, U2 Conference Director
Fitzroy Presbyterian Church
3:00- 4:00 pm: Dr. John Brewer, Queen's University, "1998 as a Cultural Moment in Belfast," plenary address
Fitzroy Presbyterian Church
6:00 – 7:00 pm: Welcoming reception for The U2 Conference hosted by The Senator George J. Mitchell Institute for Global Peace, Security and Justice
Queen's University
Location TBA
7:00 – 8:30 pm: Keynote presentation, Catherine Owens: "Vision Into Visibility: How PopMart's LED Technology Changed the Story"
The Ulster Museum Theater
14 JUNE 2018, THURSDAY
8:00 am: Registration Opens
Maths & Physics Teaching Centre Lobby, The Lanyon Building, Queen's University
8:00 – 8:30 am: Morning devotional for those who wish to attend, led by Jan Vierhout of the U2 Retreat, Netherlands
Room: TBD Maths & Physics Teaching Centre, The Lanyon Building, Queen's University
8:45 – 10:00 am: Panel Sessions 1A & 1B
Panel Session 1A: "Don't You Wonder Sometimes?" Sound & PopVision
Session Chair: Angela Pancella
Room: TBD in the Maths & Physics Teaching Centre, The Lanyon Building, Queen's University
Pop's Music Videos
Dr. Jonathan Hodgers
Popular Music Lecturer
Trinity College
Dublin, Ireland
"And What You Leave Behind You Don't Miss Anyway": U2's Pop and the Pop Art Aesthetic
Dr. Kimberly Mack
Assistant Professor of African American Literature
Department of English Language and Literature, The University of Toledo
Toledo, Ohio, USA
"Lookin' for a sound that's gonna drown out the world": Resolving Musical Emotional Ambiguity in U2's POPVision
Dr. Diane M. Rasmussen Pennington
Lecturer in Information Science
Lead, Information Engagement Research Area, Strathclyde iSchool Research Group (SiSRG)
University of Strathclyde
Glasgow, Scotland
Panel Session 1B: "Take This Tangle of a Conversation, Turn It into Your Own Prayer"
Session Chair: Helena Torres Montes García
Room: TBD in the Maths & Physics Teaching Centre, The Lanyon Building, Queen's University
A Table in the Presence of My Enemies: Pop as "Songs of Descent"
Dr. Richard S. Briggs
Lecturer in Old Testament and Director of Biblical Studies
Cranmer Hall, St. John's College
Durham University, England
The Urban Landscape of U2
Mark Meynell
Independent writer and Cultural Critic
London, UK
U2's Pop:  A Maturation and Crisis of Faith
Dr. Brian E. Porter
Professor of Management
Department of Economics and Business
Cedric B. Porter
Student
Hope College
Holland, Michigan, USA
10:00 – 10:30 am: Coffee Break
Maths & Physics Teaching Centre Lobby, The Lanyon Building, Queen's University
10:30 am – 12:00 pm: Panel Sessions 2A & 2B
Panel Session 2A: "Got the Swing, Got the Sway, Got My Straw in Lemonade"
Session Chair: Chris Endrinal
Room: TBD in the Maths & Physics Teaching Centre, The Lanyon Building, Queen's University
Counterpoint and Expression in the Music of U2
Dr. Timothy Koozin
Professor and Division Chair of Music Theory
Moores School of Music, University of Houston
Houston, Texas, USA
"Already Gone": How U2's Use of the Harmonic Series in "Gone" Expresses in Musical Language the Searching, Restless Cross-Pressures of Postmodern Culture
Kevin Ott
Independent scholar
Shafter, California, USA
"Electric Blues Death Rattle": Wisdom Literature and Ecclesiastical Visions in U2's Pop
Dr. Dan Pinkston
Professor of Music Theory and Composition
Simpson University
Redding, California, USA
Panel Session 2B: "And You Know There's Something More": The Art and Soul of Pop
Session Chair:  David Whitt
Room: TBD in the Maths & Physics Teaching Centre, The Lanyon Building, Queen's University
A "Bogus Brand": The Popular and UnPOPular Iconography of U2 Fan Tattoos
Beth Nabi
Associate Professor of Graphic Design and Digital Media
University of North Florida
Jacksonville, Florida, USA
Conversing with the Wilfully Polarised: A Multimodal Analysis of "Please"
Dr. Christopher Wales
Associate Professor
Gimlekollen School of Journalism and Communication, NLA University College
Kristiansand, Norway
U2's Concerts as Contemporary Spectacle: Hyper-reality vs. Authenticity
Dr. Michael Williams
Senior Lecturer and Course Leader
University of Brighton
Brighton, UK
12:15 – 1:15 pm: Lunch provided for all registrants, catered by Holohan's Irish Pantry
Fitzroy Presbyterian Church
1:30 – 2:30 pm: Dr. Fiona Magowan, Queen's University, "Can Music End Conflict? Ethnomusicology and Interdisciplinary Perspectives on the Politics of Persuasion and Peacebuilding," plenary session
Fitzroy Presbyterian Church
3:00 – 4:00 pm: Shaughn McGrath and Steve Averill of Amp Visual: "Pop in the Age of Experience," plenary session
4:15 – 5:0 pm: In Conversation: Catherine Owens, Shaughn McGrath and Steve Averill, plenary session
7:30 – 8:30 pm: Beth Nabi, "Ink, Icons, Identity: U2 As Written On Skin," plenary session
Fitzroy Presbyterian Church
8:30 – 9:45 pm: Talk About Pop Music: Hosted by Steve Stockman Featuring the Fitzroy Players. Join us for a casual time of live performances of U2's songs with audience commentary following each song in a "game-show format."
Fitzroy Presbyterian Church
15 JUNE 2018, FRIDAY
8:00 am: Registration Opens
Maths & Physics Teaching Centre Lobby, The Lanyon Building, Queen's University
8:00 – 8:30 am: Morning Devotional for those who wish to attend, led by Jan Vierhout of the U2 Retreat, Netherlands
Room TBD: Maths & Physics Teaching Centre, The Lanyon Building, Queen's University
8:45 – 10:00 am: Panel Sessions 3A & 3B
Panel 3A: Pop and the Preachers: "Is There An Order In All Of This Disorder?"
Session Chair: Mark Meynell
Room: TBD in the Maths & Physics Teaching Centre, The Lanyon Building, Queen's University
Psalms of Experience: Prayers and Protests From The Boot Of Your Car
Micheal Felker
Lead Pastor
Lakeside Church of Christ
Mansfield, Texas, USA
The Endings of Pop: Benediction, Lullaby or Lament?
Rev. Dr. Steve Taylor
Principal
Knox Centre for Ministry and Leadership, Knox College
Dunedin, New Zealand
Panel 3B: "Wanting to Be the Song That You Hear in Your Head"
Session Chair: Jan Vierhout
Room: TBD in the Maths & Physics Teaching Centre, The Lanyon Building, Queen's University
Pop and the Prequels: A Case for the Necessity of These Pariahs
Dr. Christopher Endrinal
Assistant Professor of Music
Bower School of Music and the Arts, Florida Gulf Coast University
Fort Myers, Florida, USA
A Reinterpretation of U2's Discography: Pop as a Transition Album
Dr. Helena Torres Montes García
Professor
Instituto Tecnológico de Estudios Superiores de Monterrey
Mexico City, Mexico
Escape from the "Playboy Mansion": U2, Me Too, and Masculinity
Andrew William Smith
Instructor of English and Religious Studies
Tennessee Tech University
Cookeville, Tennessee, USA
10:00 – 10:30 am: Coffee Break
Maths & Physics Teaching Centre Lobby, The Lanyon Building, Queen's University
10:30 am – 12:00 pm: Panel Sessions 4A & 4B
Panel 4A: "Returning the Call to Home"
Session Chair: Chris Wales
Room: TBD in the Maths & Physics Teaching Centre, The Lanyon Building, Queen's University
Mother and Muse: The Voice of Iris
Dr. Stephen Newman
Lecturer, Department of Irish
Mary Immaculate College
Limerick, Ireland
U2 and Nostalgia: Running to Stand Still or the Start of a Beautiful Day?
Madison Vardeman
Independent Scholar
Georgetown, Texas, USA
U2 in the Classroom: The Teacher Perspective
Dr. Dave Whitt
Professor of Communication Studies
Nebraska Wesleyan University.
Lincoln, Nebraska, USA
U2 in the Classroom: The Student Perspective
Georgia Straka
Psychology Major and Communication Studies Minor
Nebraska Wesleyan University.
Lincoln, Nebraska, USA
Panel 4B: "Listen As Hope and Peace Try to Rhyme"
Session Chair: Naomi Dinnen
Room: TBD in the Maths & Physics Teaching Centre, The Lanyon Building, Queen's University
Staring at the Falling Sun: U2 and the Decline of American Hegemony
Dr. Michael MacLeod
Associate Professor of Political Science
St. Mary's University
Calgary, Alberta, Canada
"The Less You Know, The More You Believe": The Dilemma of Pop Activism in the Case of Aung San Suu Kyi
Dr. Tim Neufeld
Professor, Biblical and Religious Studies
Fresno Pacific University
Fresno, California, USA
12:15 – 1:15 pm: Lunch provided for all registrants, catered by Holohan's Irish Pantry
Fitzroy Presbyterian Church
1:30 – 2:30 pm: "Like Faith Needs a Doubt": An Interactive Exploration of Theist/Non-Theist Dialogue, led by Angela Pancella, Independent Scholar, Norwood, Ohio, USA
Fitzroy Presbyterian Church
Session Chair: Micheal Felker
3:00 – 4:00 pm: Keynote presentation, Stuart Bailie, "Holy Wars And Northern Stars: U2 and Conflict In Ireland"
Fitzroy Presbyterian Church
4:30 – 5:30 pm: Andy Rowen and Steve Stockman in Conversation, "'If You Twist and Turn Away': The Power of Songs to Change a Life," plenary session
Fitzroy Presbyterian Church
5:30 – 6:00 pm: Closing remarks, Scott Calhoun, U2 Conference director
9:30 pm: December in concert
The John Hewitt
End of program